Rugged geography, swamps, thick rain-forests and a  lack of roads means that aviation is the only viable connection for hundreds of people groups in Papua Indonesia.  There are around 300 villages that relay on aviation as there link to the outside world.
In developed areas of the world the use of small aircraft is a luxury that few can afford, but for remote tribal people in rugged areas of the earth the use of airplanes is a necessity that they can't afford to be without.
Did you know that thousands of people on earth today live in a town or village with no road?  These people want to be connected with the outside world. In many cases a half hour to an hour plane ride takes up to two weeks on foot.
When a pregnant women gets complications or a man gets appendicitis (easily treated at a hospital) they would have to walk for two weeks with there condition.  The reality is that these people die from easily treatable ailments without an aircraft to evacuate them to a Hospital.
The process of Bible Translation takes a big team and lots of checking with colleagues.  Without airplanes in these areas translation projects would not happen.  The airplane not only speeds translation projects it opens up otherwise unreachable areas
We have been serving in Papua Indonesia since 2000. Papua  is located above Australia, The Indonesian Provinces of Papua and West Papua are on the western half of the Island of New Guinea. The separate nation of Papua New Guinea is on the Eastern half of New Guinea Island. Below is a map with some of the runways we serve. You can zoom in and click on the runways to see pictures and Videos of various villages.
Courtney's main role is serving as pilot servicing isolated villages of Papua Indonesia. He is currently flying the Pilatus Porter PC-6 Aircraft. When we first arrived in Papua in 2000 Courtney had initially flew the Helio Courier airplane, As it turned out Courtney was the very last
JAARS
pilot to fly the Helio overseas. The Helio aircraft has a 
storied history 
in aviation and ministry. "The neatest thing about getting to fly the helio wasn't the technical part of flying this unique plane,  it was the sense of being part of a team of pilots that God has used all over the globe to spread His Glory through Bible Translation and touch so many lives for so many years with this aircraft".  Jaars acquired their first Helio in 1955 and PK-UCA (the Helio that Courtney retired) was the first Helio in Indonesia in 1976.  This was the same year that Courtney was born!  The Helio Served well for many years but now light turbine aircraft like the Pilatus Porter have replaced all overseas Helio operations.
National Training Coordinator
Instead of training in the Pilatus Aircraft after the Helio retired we felt led by God and supported by our leadership to serve full time in the developing of Indonesian Nationals as aviation mechanics and pilots. Courtney did this full time for over 3 years. The job of the training coordinator is to help evaluate and guide the training of Indonesians as pilots and mechanics. Much of this work has been creating a system for mechanic trainees to gain the theory and problem solving skills needed and overseeing training trips to the US. It is very rewarding to see Indonesians grow in the vision of bible translation support as well as the technical skills needed in aviation.  As a result of these efforts (and the efforts of many others.) our head of Maintenance is an Indonesian man.
Courtney has is keeping the runway charts up to date and making sure the inspections are current. There is no available information about the runways we go to accept for what we create ourselves. In 2016 Courtney updated all our runway charts to a new format that works on our iPads.  Below is an example of the a runway chart. The Bachelors degree in fine Art has transferred into several Graphic design projects as well as the runway charts digital upgrades.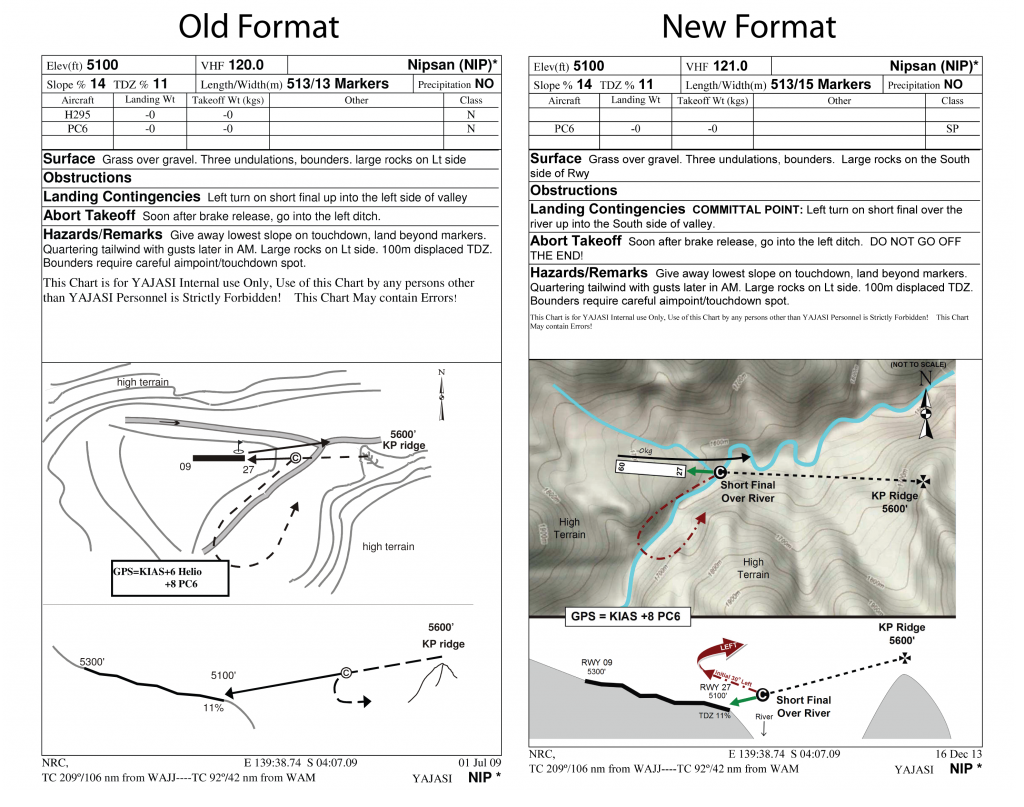 Courtney is also helping new members as they arrive to Indonesia. New members arrive two times a year in Java. Orientation teams fly to Java to help the newcomers get settled in to language school.  Courtney has lead on several of these trips to help new members transition to life in Indonesia.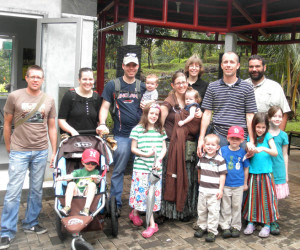 Most of Beth's time is being a Mother. This is a full time job!  On top of just being the Mom she has also been Homeschooling our kids when needed. Its a lot of work to keep a house going strong.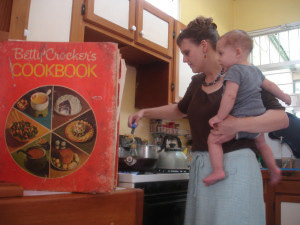 Bible Distribution and Promotion